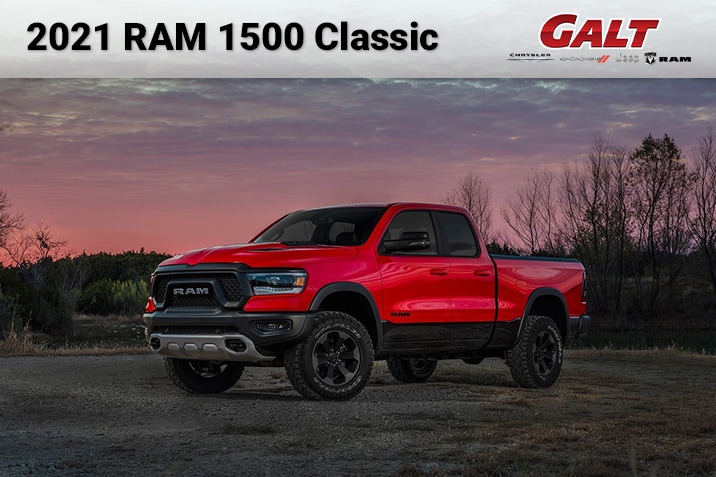 In the category of full-size pickup trucks for the year 2020, the RAM 1500 picked up the top spot, ahead of the Ford Super Duty, the Silverado HD, the Sierra, the Nissan Titan HD and several others. The 2021 Classic model still ranks among the top three vehicles in its category and remains a solid contender overall.
The Galt Chrysler Dodge Jeep RAM dealer of choice, located in Cambridge, near Kitchener and Guelph, showcases the best features of the 2021 RAM 1500 Classic.
---
The 2021 Ram 1500 Classic 
I recently had the opportunity to speak with an RAM driver and walking up to his vehicle, I asked him why he chose the RAM over other vehicle makes within his category and budget. What he had to say took me by surprise, and his reply was quite spontaneous. He said, "With the RAM, I can feel the performance" and just to illustrate his point, he stepped on the gas pedal while his vehicle remained stationary and I could feel the rumbling of his muffler. He then added, "That's what performance feels like," drove off and I too could "hear" for myself, the performance of the best buy vehicle for 2021.
With a bold, rugged yet attractive and versatile exterior, the 2021 RAM 1500 Classic may not look quite as truck-like as its competitors, but it certainly isn't any less muscular. The RAM 1500 comes in a number of models, starting with its classic V6 and V8 engines, followed by its newer EcoDiesel and EcoDiesel 1500 classic engines, along with a 5.7-liter V8 powertrain counterpart that produces 395 horsepower and a generous 410 lb-ft of torque. Then finally onto its all-new V6 eTorque engine in its hybrid version equipped with a 48-volt battery. It wouldn't be a stretch to say that the RAM 1500 is ultra-muscular and capable of towing loads up to 5,783 kg (12,750 lb).
Now in 2021, the RAM remains a fierce workhorse, particularly when it comes to heavy-duty jobs, but it is equally well suited for towing trailers, boats and much more. And although it is a heavyweight, it looks very stylish, with a spacious and highly functional interior. A sophisticated dashboard, a 12-inch touchscreen display, cutting-edge features and state-of-the-art technology all contribute to making it the best full-size pickup truck of the year.
Other highlights include ergonomic, heated and adjustable seating and a Uconnect system with FCA's best interface to date. Step into the driver's seat and you'll quickly see how this vehicle is also perfect for you and your family. You won't be disappointed by its amazing benefits like fuel economy, towing capacity, multi-function tailgate, 360-degree camera, as well as USB ports, Bluetooth and Wi-Fi connectivity, to name a few.
The active and passive safety systems of the 2021 Ram 1500 Classic, feature impending impact warning, adaptive cruise control with stop-start function, directional headlights, side-impact warning, including trailer side-impact warning, rear-impact warning, lane-departure warning and lane-keep assist, trailer swerve control, and many more safety features, putting you safely at the helm of a vehicle that takes you where you need to go.
Bottom line, the 2021 RAM 1500 Classic is a versatile, powerful vehicle, available in a variety of powertrain and gearbox/transmission options. This pickup is both useful for the heavy lifting and flexible enough for family adventures.
While we've talked a lot about the RAM 1500, once again receiving awards in 2020 and 2021, the lineup for these vehicles is much more extensive, and includes the RAM 2500, 3500, RAM HD and RAM Promaster, perfect for driving from one client to the next.
Galt Chrysler Dodge Jeep RAM, simply the best!
For several years, Galt Chrysler Dodge Jeep RAM has been selling top-of-the-line vehicles. Their passion and expertise reflect their know-how and the knowledgeable staff can provide you with the best advice. As far as dealerships go, Galt in Cambridge near Kitchener and Guelph has just the right RAM vehicle to suit your needs. Visit our showroom and discover all the latest RAM 2021 models. We look forward to having you test drive our vehicles and sharing our passion for the cars of today and tomorrow.