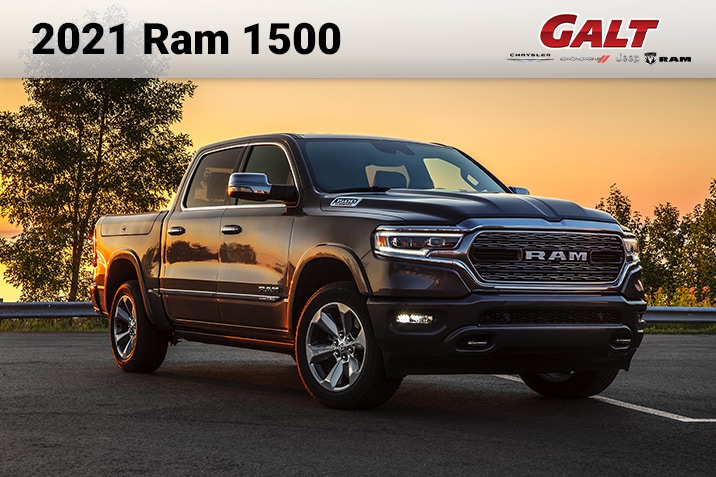 A brand-new RAM truck is coming to life with the 2021 RAM 1500 TRX, and it's one brute of an off-road machine! Not only is it the fastest production-offered truck in the world, it will actually take you on the toughest off-road journeys imaginable, while offering the smoothest ride ever. On top of that, its bold, dramatic and muscular look is sure to impress wherever it goes.
People at Galt Chrysler are just as excited as you may be about the arrival of this new game-changer pick-up truck. Thus, your GTA Chrysler Dodge Jeep RAM dealership in Cambridge, near Kitchener and Guelph, has decided to make you discover all the incredible features of this new beast: the 2021 RAM 1500 TRX.
---
The Pick-Up Truck You Always Dreamed Of
The 2021 RAM 1500 TRX is the pinnacle of what pick-up trucks manufacturer aimed to achieve; nothing resists its power, traction and performance-oriented technology. First of all, the combination of its Supercharged 6.2 L HEMI V8 engine, its 4 × 4 performance control system, its free-flowing exhaust and its large inflow induction system gives the RAM 1500 TRX the best-in class horsepower and torque. It actually produces an unmatched 702 horsepower and 650 lb-ft of torque. It also travels from 0 to 96 km/h in just 4.5 seconds! 
Its 35-inch off-road tires, 11.8 inches of ground clearance and 32 inches of water fording depth makes it the perfect all-terrain vehicle. The RAM 1500 TRX 2021 also boasts an impressive 13 inches of front and 14 inches of rear suspension travel, which is over 40 percent better than the rest of the Ram 1500's lineup. The goal behind its conception was to give it maximum off-road performance while giving the customer many on-road options for optimum comfort. Through the massive 12-inch touchscreen, you can choose from the auto-all-around comfort setting, perfect for the highway, the aggressive sport setting to tie the vehicle down, or conversely the Baha mode to free it up and experience the smoothest ride while travelling long distance on the most rugged terrain imaginable.
On top of that, the new RAM 1500 2021 sounds great! Its exhaust system was designed to create instant feedback from the pedals to the driver's ears. The result is a powerful impression combined with an enjoyable ride down the road. Its responsiveness and its 8-speed transmission shift schedule give this new RAM an amazing feel and create an absolute thrilling ride. 
The exterior design has not been forgotten either and communicates the power, strength and toughness of the new RAM 1500 TRX. With its massive tire size - the 35-inch Goodyear Wrangler Territory All Terrain tires, specifically developed for the TRX, and mounted on 18-inch wheels -, impressive suspension travels, menacing grille and bold lines, it has a very muscular and rugged look. The new RAM 1500 also has the largest air box in its class. Functional air intake scoop and a redesigned and bigger flow-through front RAM badge ensure unobstructed airflow to the engine. In addition, an Adaptive Forward Lighting system comes standard on the Ram 1500 TRX, with premium LED Smartbeam Intelligent Headlamps to ensure others will always see you coming. All in all, the new RAM 1500 2021 boasts the most dramatic and badass pick-up look ever.
Lastly, the interior design was also magnificently thought through. A thick flat bottom steering wheel with awesome paddler shifters combines with a brand-new central console shifter to produce a very sporty feel. Available perforated leather, Alcantra leather and carbon fibre trim add to this impression. Overall, the interior was designed in such a way that every detail has a functional purpose and gives a nice esthetic to the cabin, while making the ride as comfortable and enjoyable as one can hope for. This obviously includes the 900-watt Harman Kardon Premium Audio System that boasts 19 speakers, exclusive to the 2021 RAM 1500 TRX.
Galt Chrysler Brings You to the Next Level
At Galt Chrysler, your Chrysler Dodge Jeep RAM dealership in Cambridge, near Kitchener and Guelph, an experienced team strives to offer you the best customer service possible, from a warm welcome, to an attentive care and proactive propositions. These professionals know their trade inside out and building long-lasting relations of trust with the customers is their priority. Come meet them today and stay in touch to book a test-drive of the new 2021 RAM 1500 TRX; the pinnacle pick-up truck that will take you to the next level!