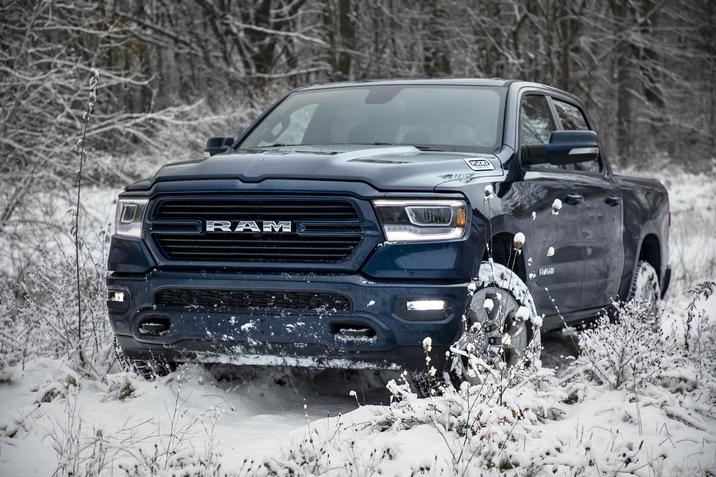 If you are out comparison shopping for a full-size pickup truck in the areas of Cambridge and Kitchener, or other areas in Ontario, you are likely overwhelmed by the number of choices and options available from the different auto manufacturers. Pickup trucks have become one of the top selling vehicles in North America, with any number of different styles, models and trim levels on trucks being purchased by all types of drivers - commuters, young families, tradespeople, women and anyone who likes the durability, versatility and comfort that today's pickup trucks provide. So the question is, how do you choose the right pickup truck for you? The vehicle experts at your local Chrysler dealership, Galt Chrysler, want to help you make your decision.
When you are truck shopping a variety of questions arise, such as "What's the most fuel efficient truck?" and "Which is the best full size truck?" While fuel efficiency and overall ratings are an important factor, you also need to remember who will be driving, and ask yourself, "What is the most comfortable truck?," because comfort can be a major factor, especially if you are carrying people in the back seat.  So in order to help you with your comparison shopping we've compared the 2020 RAM 1500 with some similar trucks on the market.
2020 RAM 1500 VS 2020 Ford F-150
New this year to the RAM 1500 line-up is the re-introduction of the 3.0L EcoDiesel engine. This powerful and fuel efficient engine produces 480 lb-ft of torque, compared to the 2020 Ford 1500's 3.3L Ti-VCT V6 Engine providing 265 lb-ft of torque. This means the RAM truck has a towing capacity of as much as 12,500 lbs, compared to the 2020 F-150's diesel at only 10,400 lbs.  Plus, the Dodge Ram can pull a maximum trailer weight of 6,730 lbs vs the Ford truck's 5,000 lbs.
In terms of driver comfort, the 2020 RAM 1500 boasts wood and leather trim, and all the luxurious upgrades that came with 2019's completely redesigned interior. Passengers in the rear seats get to ride comfortably as well - for once - as the 2020 RAM 1500 features the best in class legroom, class exclusive reclining rear seats with 8 degrees of adjustment and a cabin that is as much as 6.6 inches longer than the competition, plus a heated rear seat option!
So if the fuel efficiency of a diesel appeals to you, as well as driver and passenger comfort, then you may want to come check out the 2020 RAM 1500 at Galt Chrysler before heading out anywhere else.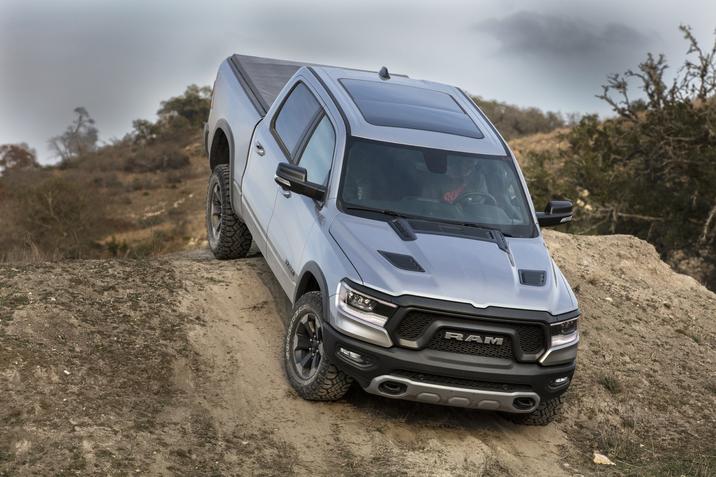 2020 RAM 1500 VS 2020 GMC Sierra 1500
Another contender in the light duty pickup truck segment is the 2020 GMC Sierra 1500. This truck comes with a 285-hp 4.3L V6, that is comparable to the 2020 RAM 1500's Pentastar 3.6L V6, except RAM gives a little extra at 305-hp. On the transmission side, the 2020 Sierra 1500 gives drivers a 6-speed automatic with OD and auto-manual, with the RAM providing a bit more versatility with an 8-speed automatic with OD. In the light duty pickup segment, fuel efficiency is always an issue with the 2020 RAM 1500 getting 22 mpg (combined highway/city) and the GMC truck clocking in at a close 17 mpg (combined).
Where the differences really play out in this comparison are the conveniences you get standard with the 2020 RAM 1500. Standard is cruise control, compass, two 12-volt DC power outlets compared to GMC's single outlet, standard USB ports and a proximity key. If you are truly looking for the most comfortable truck out of these two, the RAM wins hands down.
Driving is all about the driver experience these days, and sometimes those little standard conveniences like cruise control can really make a huge difference in your day to day drive, especially in and around the busy roads of Cambridge, Kitchener and throughout Ontario. If you are looking for a strongly powered, yet highly convenience base model truck, you owe it to yourself to check out the new 2020 RAM 1500.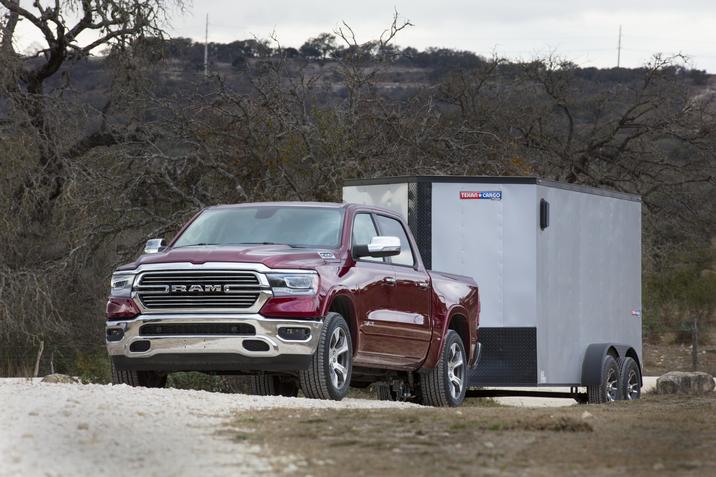 2020 RAM 1500 VS 2020 Chevrolet Silverado 1500
When looking for the best pickup truck in the light duty category, it's worthwhile to compare the 2020 Chevrolet Silverado 1500 to the 2020 RAM 1500 as well. In terms of performance, 2020 Ram 1500 diesel can tow 12,560 lbs, which compares to 9,300 for the Silverado 1500 - and then add the Dodge RAM's maximum 2,300 lbs in the cab and bed, versus the 2020 Silverado at only 2,000 lbs. For engine choices, you can choose one of three engine models, including the 305 hp 3.6L Pentastar V6 and diesel, versus two engine choices for the 2020 Chevrolet Silverado 155, which includes a V6 and a V8 option.
While the base model of the Dodge Ram seats six - including those in the new and improved comfortable back seats, the Silverado's base model can carry three passengers. The Silverado's interior is not quite as plushly appointed inside as the RAM 1500's interior, with its wood and leather accents, and as you move into the other models, the RAM features floor carpeting sooner than Chevrolet.
While the 2020 Silverado 1500 is a popular choice in this category, those searching for the ultimate in engine choice, towing capacity, and interior comfort should definitely put the 2020 RAM 1500 on their "must-see" list.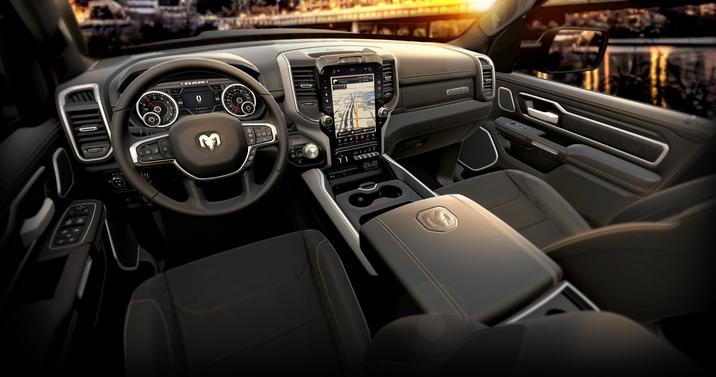 Which pickup truck is the best?
As you can see, the light duty pickup truck category is filled with comparable vehicles, making your choice for "best pickup truck" quite complex. It's always best to take your time when choosing, by listing the attributes that are most important to you and work your way through each pickup's features and benefits. Of course, if you want to talk to an experienced sales team, the team at Galt Chrysler, located close to the communities of Cambridge and Kitchener, the heart of Ontario, are always welcoming. Drop in and see us anytime.